Commercial Roofing
Fred C. Doppler and Sons, Inc. knows roofs. We offer free roof evaluations and can advise you if you need a new roof or just some small repairs. We repair roofs as well as completly remove (tear-off) and replace roofing. No roof is too big, too small, too short or too tall. From flat to pointed, we do it all! We have been roofing Northwest Indiana since 1952 and there isn't much about roofs that we haven't seen or experienced before.
Our rates are competitive and we are always upfront about our pricing. When you hire Fred C. Doppler and Sons, Inc. you can expect a team of professional roofers who are courteous, respectful, and thorough. Our team is passionate about safety and cleanliness. We treat your property as if it were our own.
From pitched roofs to flat roofs - rubber roofs to shingled roofs, we do it all
When you hire Fred C. Doppler and Sons, Inc. you are getting over 65 years of experience and ShingleMaster™ roofers on the job. You can be certain that you are hiring some of the best roofers in Northwest Indiana.
The roof of your building is arguably the most important aspect of the structure. It protects the building as well as everyone and everything inside. The condition and type of roofing you have on your building can also affect energy usage and costs.
Rubber Roofing
Structures will occasionally require rubber roofing. Rubber roofing is ideal for use over low-sloping or flat roofs because it is durable, pliable, and waterproof. Whether they are made from synthetic rubber polymers or are made from plastic polymers, rubber roofs are designed to go in places where asphalt shingles don't perform well.
Shingled Roofs
Shingled roofs are the most popular type of roofs used on the majority of homes and structures. There are three major categories of roofing shingles available on the market today: Strip Shingles, Dimensional Shingles and Luxury Shingles.
Strip Shingles are the original and the most basic of roofing shingles available in the industry. Strip Shingles are single layered roofing shingles that are generally designed to look like slate. Strip Roofing Shingles have a very flat appearance on the roof line and are typically the lightest weight roofing shingles available in the market. Strip Shingles are used primarily by home builders manufacturing economy priced homes or purchased by homeowners as replacement roofing shingles for homes that already have Strip Shingles on the roof.
Dimensional Shingles (or Architectural Laminated Shingles) are now the predominant roofing shingles installed in North America. These products are typically manufactured as dual layered products (or multi-layered) and provide a thicker and richer appearance on the roof (a multi-dimensional look). Dimensional Roofing Shingles are typically heavier in weight than Strip Roofing Shingles and usually have improved warranty protections, which can range from 30-years to Lifetime.
Luxury Shingles are usually described as laminated shingles that have a differentiated appearance or functionality from traditional Dimensional Roofing Shingles. These products may have designs that mimic "old-world" roofing shingles, like natural slate or natural shake roofing shingles. Luxury Roofing Shingles might also have important functional improvements such as Impact Resistance or Solar Reflectivity that can possibly extend the life of the roofing system or provide lower energy costs.
CertainTeed ShingleMaster™
We are a CertainTeed ShingleMaster™ contractor. We have a commitment to professionalism and dedication to quality craftsmanship that few other roofing companies demonstrate. We have the installation knowledge, professionalism and abide by a code of ethics. We are committed to uphold industry-accepted standards and business practices.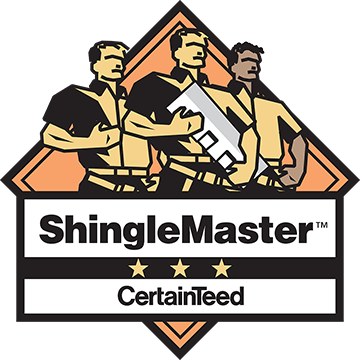 Contact us for a FREE roofing evaluation and estimate!